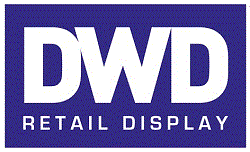 PRICES INCLUDE UK MAINLAND
DELIVERY FOR ONLINE ORDERS
Do Retail Display Stands Need to Be Unique?
At DWD, we Make it Personal
Shelving and pegboard with hooks is the easiest way to display products. Yet, after a while, everything starts to look very much the same. If you have an item that is likely to offer a better profit point for your business, you need a way to make that item stand out from your competitors products. The right POS retail display stands can do this. They are designed to make it possible for your customers to see them, to react to them, purchase from them and always keep your products displayed at their best. They are silent sales people.
Choosing the best retail display stands is always important. They mus be sized correctly for the amount of space your retailers have. You also want to ensure the item is displayed correctly onto the display. Your brand name must be prominent, brand colours also used. We help you source the the best stands to help your product stand out right here at DWD Retail Display.