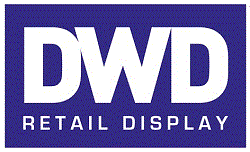 PRICES INCLUDE UK MAINLAND
DELIVERY FOR ONLINE ORDERS
Display stands do what your salesmen do but more effectively, silently and are more cost effective. They can communicate messages to your customers about your products, why they should buy those products from you and unlike the internet, display stands allow your customers to handle the products they are wishing to purchase
DWD Retail Display focus on that factor and design and manufacture display stands that can represent your products more effectively and tell your customers convincingly why they should buy them.
What is special about display stands from DWD? Well, DWD design bespoke display stands specifically for your products and incorporate materials (metal, wood, plastics) in their manufacture that although makes them attractive and functional, they never take the focus away from the actual products displayed.
At DWD we design and supply display stands to suit any merchandise from wellington boots to clothing to ceramic tiles, to car care products to food & drink. DWD can provide you with display stands that can effectively promote these items to increase your sales within your clients retail outlets.
We are able to produce conceptual designs, prototypes, graphics and purpose made packaging for each display stand and if required, deliver them to your clients premises and even install & merchandise them if required.
DWD display stands provide the silent salesmen that are always promoting your products.
Fits All Sizes Cup Dispensers
DWD Retail Display are the European distributor of California Plastics 'Fits All Sizes' Cup dispensers.
The cup dispensers are ideal for café's, restaurants, coffee shops in fact any food & drink outlet that uses disposable cups.
The face plate of the 'Fits All' cup dispenser is easily adjustable to suit any size of disposable cup from a water cooler cup up to a 32oz large soda or milk shake cup in foam, plastic or paper.
This ingenious size adjustment dial and diaphragm means changing cup sizes has never been easier or faster.
Wicker Basket Display Stands
DWD Retail Display produce a great range of display stands with wicker baskets, metal display tubs & wooden crates.
They come in 2, 3 & 4 Tiers and are available with round or rectangular baskets round metal display tubs and rectangular wooden crates and can be for sitting on counter tops or free standing floor stands.
The stands are great for bakeries, cafes, garden centres, farm shops, butchers, fruit & veg stores. They are fantastic for displaying, fresh bread & cakes as well as pre-packed bakery products, fresh produce, pre-packed fruit & veg, confectionery and crisps.
We produce stands with steel and wire frames or stands with frames produced in wood.
Our metal framed stands came flat packed for self assembly and can be assembled in less than 5 minutes and can have castors to make them be moved very easily when fully stocked.
We can also produce stands customised for your stores or brands.